Colleyville Lions Collegiate Scholarship Winners IN 2004 Represent 3 Area High Schools
Colleyville Lions Club Announces the 2004 Scholarship Recipients
The Colleyville Lions Collegiate Scholarship Committee selected four students to receive a $1,000 scholarship.  Each year the club provides $4,000 to $8,000 in scholarships to high school seniors.  Seniors from Birdville, GCISD, HEB, Keller and Carroll ISD are eligible to apply.  Students are selected based academics, community activity, career goal, financial consideration and individuals that have exhibited the Lions' pledge "We Serve" through their actions and plans.
The Scholarship Committee of the Colleyville Lions Club announced the winners of the 2004 Scholarships. The Colleyville Lions Club awards the $1,000 scholarships each year. High School Seniors from GCISD, Carroll ISD, HEB, Keller ISD and Birdville ISD are eligible to apply.
This year's winners are:
$1,000 Scholarship Winners
Beenish Bhaidani – Colleyville Heritage H.S.
Caroline Gladkowski, Fossil Ridge H.S.
Rudagara Nsabimana – Fossil Ridge H.S.
Robert Williams – L.D. Bell H.S.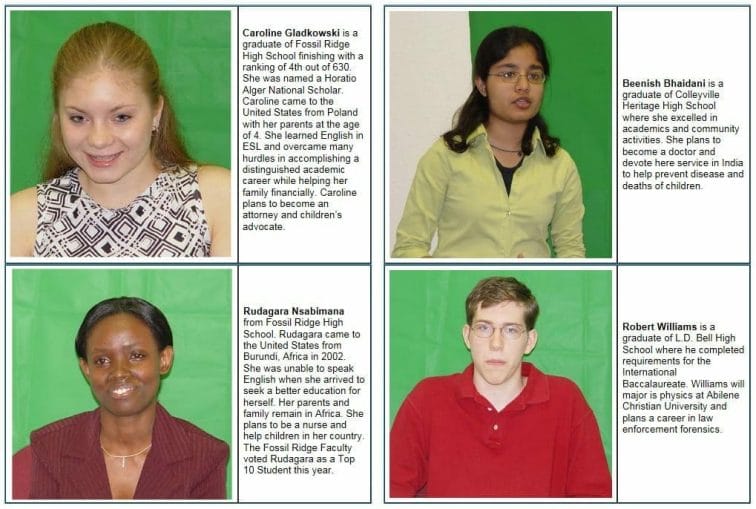 Typically, a minimum of four $1,000 Scholarships are awarded to senior high school students annually. These scholarships are open to seniors in the following school districts; Birdville ISD, Carroll ISD, Grapevine/Colleyville ISD, HEB ISD, and Keller ISD. Seniors in parochial and private schools in the same ISD areas are also eligible.
ALL APPLICATIONS MUST BE POSTMARKED NO LATER THAN THE ESTABLISHED DEADLINE. INTERVIEWS OF ELIGIBLE CANDIDATES WILL BE HELD ON A SATURDAY IN COLLEYVILLE. CANDIDATES WILL BE CONTACTED WITH THE LOCATION AND INTERVIEW TIME. INTERVIEWS WILL TYPICALLY LAST APPROXIMATELY 30 MINUTES. WINNERS WILL BE NOTIFIED WITHIN 72 HOURS. A CERTIFICATE WILL BE PRESENTED AT A REGULARLY SCHEDULED COLLEYVILLE LIONS CLUB MEETING TO BE REDEEMED FOR THE VALUE OF THE SCHOLARSHIP UPON PROOF OF TUITION OR RELATED COLLEGIATE EXPENSES.
The Colleyville Lions Club scholarship program is approved by the Colleyville Lions Club Board of Directors and funded by the Colleyville Lions Foundation. The process is administered by a Colleyville Lions Scholarship Committee that recommends final recipients. Candidates that plan to attend either college or a vocational school are invited to submit an application. A complete application for the scholarships include a completed application form, a completed form by a Counselor or Principal, a personal statement, and letters of recommendation.
https://cdn.colleyvillelions.com/wp-content/uploads/2014/03/CVScholarship-450x450.jpg?strip=all&lossy=1&ssl=1
450
450
Lion David Phelps
https://colleyvillelions.com/wp-content/uploads/2014/01/logoColleyvilleLionsClub-IconOnly-300x300.png
Lion David Phelps
2004-05-17 08:57:00
2020-12-04 18:39:35
Colleyville Lions Collegiate Scholarship Winners IN 2004 Represent 3 Area High Schools