Southwestern Medical Transplant Service Center
On Friday, July 28, 2nd Vice District Governor Vince Rosen and District Sight Preservation, Awareness & Action Chair Jon Niemczyk, members of the Colleyville Lions Club, presented an $800 donation check to E. Richard Jordan, Associate Director of the Southwestern Medical Center Transplant Service Center. These funds will provide medical care and support the training of physician, healthcare professional and medical scientists of the future.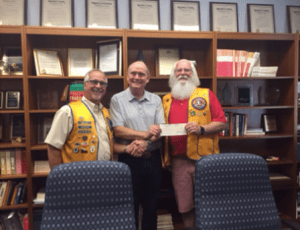 District 2E2 Lions have supported the Transplant Services Center by providing education, awareness and funding in our community about the value and benefits of tissue donation. Tissue donations can include corneas, skin, bone, heart values and connective tissues. Cornea donations can restore sight in children and adults suffering from cornea damage and disease. Go to www.DonateLifeTexas.org to become a donor.
A recent Channel 11 news show highlighted the impact that a Southlake Fireman's family made through the donation of his tissue. You can see the show at:
http://dfw.cbslocal.com/2017/06/16/north-texas-firefighter-gives-gift-of-life-even-after-death/
Each year, our District participates in two events that focus on the impact that tissue and organ donation can make in our community. Please plan to attend the Thanksgiving Remembrance at the Gooch Center in Dallas on Sunday, November 19th and the Garden of Life Remembrance at the Fort Worth Botanic Garden on April 14th.
https://cdn.colleyvillelions.com/wp-content/uploads/2017/07/Screen-Shot-2017-07-31-at-1.59.29-PM.png?strip=all&lossy=1&ssl=1
344
448
Lion Deb Cashen
https://colleyvillelions.com/wp-content/uploads/2014/01/logoColleyvilleLionsClub-IconOnly-300x300.png
Lion Deb Cashen
2017-07-31 14:02:23
2017-07-31 14:02:23
Southwestern Medical Transplant Service Center