Sight Preservation, Awareness, & Action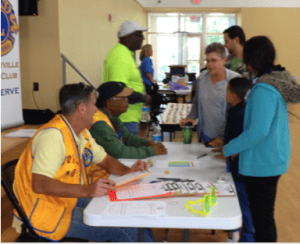 What does it mean to be a Lion who supports sight preservation, awareness and action? It means that as an organization and as individuals, we want to take a leadership role to help all people retain our very special gift of sight. Sometimes we take it for granted yet when we do have a vision problem, it makes a big impact on our life. Often, vision problems are preventable too.
That's where we as Lions step up. Our actions at vision screenings, our ability to discuss vision issues with our family and friends and our willingness to take action may make the difference in someone's life. Yes, we can change the world one person at a time.
Our Colleyville Club has 23 Lions that are truly Visionaries and who have been involved in vision screenings this year. As the largest Lions Club in District 2E2, we can make a big impact on the lives of children's and adults in our community. We also get to see how our actions are making a difference. Simply ask the parents of a child that got screened last year and who now wears glasses. Their self-esteem, attitude and ability to thrive has soared. 80% of what we learn is thru our sense of sight. Poor vision can be a life long barrier for growth and happiness. We can change that.
Two recent screenings events included the GCISD Back to School and the Six Stones Health Fairs. Our Lions screened over 300 children and referred nearly 50% for additional services and potentially an eye exam.
Two upcoming events include:
Empowering Seniors- October 6 9-2:00PM. An adult health fair at the Six Stones Community Center from
Hope Farm Fall Extravaganza- October 28, 12:00-3:00 at the Hope Farm campus. Both children and adults will be screened.
How can you be part of these next programs? You can sign up with Lion Jon Niemczyk or Stan Hall to be a volunteer. You can also take a 2½ hour certification class to learn to use the screening instruments. There are two different types, one for children and one for adults.
Lions are committed to provide service and support for those in need. Please become one of our Colleyville Visionaries!
https://cdn.colleyvillelions.com/wp-content/uploads/2017/10/Screen-Shot-2017-10-05-at-3.29.39-PM.png?strip=all&lossy=1&ssl=1
313
384
Lion Deb Cashen
https://colleyvillelions.com/wp-content/uploads/2014/01/logoColleyvilleLionsClub-IconOnly-300x300.png
Lion Deb Cashen
2017-10-05 15:31:07
2020-12-04 18:37:47
Sight Preservation, Awareness, & Action